Ever explored the windy city by foot and felt that sudden grumble of hunger? Since food trucks began springing up in Chicago a few years ago, the food scene has become increasingly pedestrian-friendly. Now you can try a huge, multi-cultural, and sometimes quirky variety of hand-held food.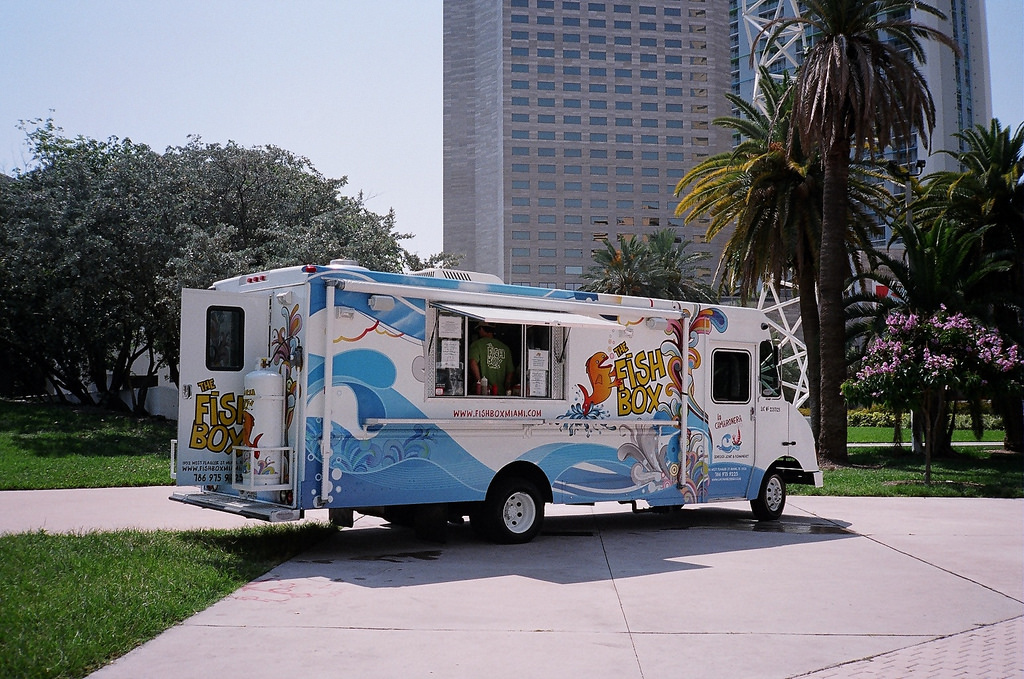 1. The Fat Shallot
Sandwich lovers head to The Fat Shallot truck for classic yet inspired sandwiches. Sam Barron and Sara Weisz, a husband and wife team, first sampled foods from around the world, later professionally prepared food in New Orleans, and now run this restaurant-on-wheels.
Highlights of the menu include the truffle BLT, combining two slices of Texas toast with truffle aioli, crispy bacon, arugula, and tomatoes; and their unique grilled cheese, which houses muenster cheese, caramelized onions, and sautéed spinach between two sourdough slices.
You're most likely to find The Fat Shallot either at Wacker and Adams or 58th and Ellis.
2. Yum Dum Truck
For original, home-style Asian food, try the Yum Dum truck. Chef and owner Jeff Wang introduced his food truck in 2014 to showcase what he calls, "Mom's home cooking." Since then, it's become one of Chicagoans go-to spots for creative Korean dishes, as well as several Thai flavors.
Taste the kimchi rice balls, featuring cheddar and kimchi-stuffed arancini and topped off with an awesome jalapeno sriracha mayo. Other recommendations offerings are the classic veggie steamed dumplings and the Taiwanese-spiced pork-belly baowiches.
The Yum Dum can be found at music and food festivals such as the Taste of Chicago. It also often rolls up to private events.
3. The Tamale Spaceship
If luchadors float your boat (and even if they don't), you'll want to check out The Tamale Spaceship. The masked chefs prepare some of the best Mexican food around, based upon the vision of co-founder and manager Manny Hernandez.
For best results, order one of the many popular tamales from the truck–such as the No One's, an Adobe-braised chicken tamale with mole, or the Urbano, slow-braised beef with tomatillo-corn sauce.
Look for The Tamale Spaceship in the Loop, at Clark and Monroe or Wacker and Adams.
4. Babycakes
Craving breakfast food? Chef Leah's Babycakes truck is open 24/7, offering flapjacks and decadent breakfast sandwiches that have found fans all over the Chicago area.
The menu features breakfast dishes for almost every persuasion, from inventive pancake flavors like red velvet and peanut butter cup to the savory-and-sweet two-bite waffle sandwiches with chicken and maple bacon bourbon jam.
This "sexy" red truck typically stops near the University of Chicago. Be on the lookout!
5. The Happy Lobster Food Truck
The Happy Lobster co-founder Alex Robinson saw the deficit of accessible and tasty lobster in the city and left his job as a sports writer to pursue his culinary passion.
Be grateful that he did! Now you can try naturally juicy lobster rolls from the milder "happy" rolls to the spicy "angry rolls. Other winners include the lobster mac and cheese and whoopie pies for dessert.
Find this truck near Daley Plaza or Wacker and Adams!